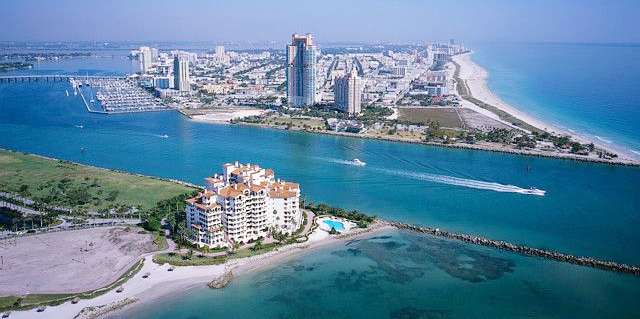 South Beach, also nicknamed SoBe, is a neighborhood in the city of Miami Beach, Florida, United States. It is the area south of Indian Creek and encompasses roughly the southernmost 23 blocks of the main barrier island that separates the Atlantic Ocean and Biscayne Bay. This area was the first section of Miami Beach to be developed, starting in the 1910s, thanks to the development efforts of Carl G. Fisher, the Lummus Brothers, John S. Collins, and others.
The area has gone through numerous artificial and natural changes over the years, including a booming regional economy, increased tourism, and the 1926 hurricane, which destroyed much of the area.
South Beach's Scenery
South Beach is traversed by numerical streets which run east-west, starting with First Street and the largely pedestrianized Lincoln Road (between 16th and 17th). It also has 13 principal Roads and Avenues running north-south, which, from the Biscayne Bay side, are Bay Road, West Avenue, Alton Road, Lenox Avenue, Michigan Avenue, Jefferson Avenue, Meridian Avenue, Euclid Avenue, Pennsylvania Avenue, Drexel Avenue, Washington Avenue, Collins Avenue (Florida State Road A1A), and Ocean Drive.
The Biggest South Beach's Hotel
In 1964, South Beach became even more famous when Jackie Gleason brought his weekly variety series, The Jackie Gleason Show to the area for taping, a rarity in the industry. Beginning in the late 1970s and continuing through the 1980s, South Beach was used as a retirement community with most of its ocean-front hotels and apartment buildings filled with elderly people living on small, fixed incomes. This period also saw the introduction of the "cocaine cowboys," drug dealers who used the area as a base for their illicit drug activities. Scarface, released in 1983, typifies this activity.
The Beauty of South Beach
South Beach's Night Hotel
South Beach in Morning
South Beach's Wave
South Beach's Tourism